The Smart Schools Bond Act of 2014 was passed in the 2014-2015 New York State enacted budget and approved by the voters of New York State in a statewide referendum held in the general election on November 4, 2014. The Smart Schools Bond Act authorized the issuance of $2 billion obligation bonds to finance improved educational technology and infrastructure to improve learning and opportunity for students throughout the state.
Tonawanda's Smart Schools Bond allocation is $1,561,513.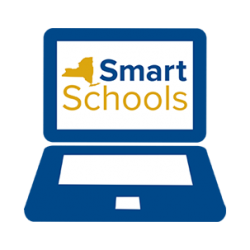 TONAWANDA SMART SCHOOLS COMMITTEE & INVESTMENT PLAN:
A committee was formed within the district with members from each stakeholder group (administrators, regular education and special education teachers, teacher assistant, librarian, parent, BOE member, STEM coach). This committee drafted a plan for what the money could potentially be used on, based upon the parameters set forth in the Smart Schools Bond Act.
At its November 16, 2021 meeting, the Tonawanda City School District Board of Education approved the committee's third phase of the investment plan, which focuses on districtwide safety. Public input was sought for 30 days on the third phase.
The approximate total for Phase III is $484,000.00. This includes:
New cameras for the new Tonawanda Elementary School

New PA system at the Middle/High School