After more than a year with the curtain closed, the Tonawanda Middle/High School Theatre Department will make its triumphant return to the stage with its production of "Little Shop of Horrors" May 22-23.
While the cast will be performing on the Alumni Auditorium stage, the audience will be able to watch the musical from the comfort of their homes through a livestream. Tonawanda Theatre Producer Daniel Lynch noted the students are elated to be back working together as a theatre family after not being able to due to the COVID-19 pandemic.
"It's been a welcome return to the stage for all involved," Lynch added. "I think we can all agree that while our February production of 'Almost, Maine' was an awesome experience, another Zoom performance is not what any of us wanted. The students involved in 'Little Shop of Horrors' come every day with a smile on their face excited to be back in-person."
"Little Shop of Horrors" was chosen for the Theatre Department's return to the stage since the small cast allows for social distancing. The pre-pandemic set and costumes from "RENT School Edition" that have gone unused were able to be repurposed for this showing.
As with most things these days, COVID-related restrictions proved a challenge for the students when rehearsals began. Everyone had to be masked and 12 feet apart while singing and 6 feet apart while acting. This proved difficult, but recent changes to regulations have helped tremendously, Lynch pointed out.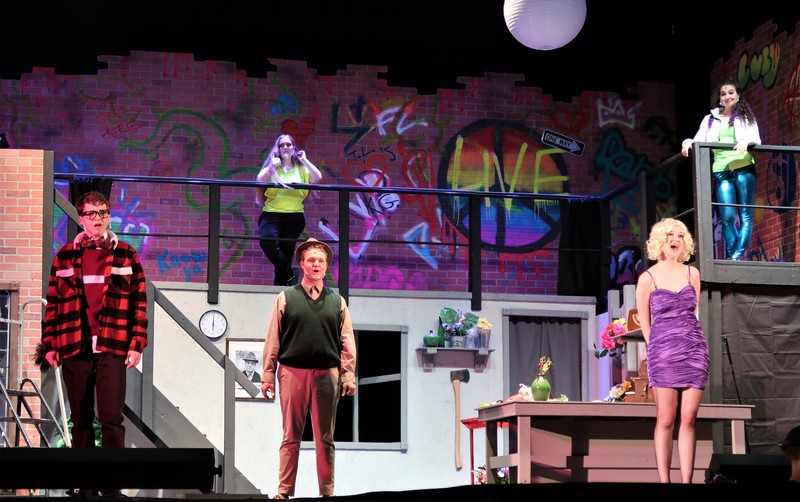 "The students couldn't quite hear each other, especially when singing, and they couldn't interact in the ways they are used to," he stated. "They're now allowed to be 6 feet away while singing, and that has made a huge difference."
Seniors Henry Caso, Sarah Maxwell and Haylee Morris will be starring as Seymour, Audrey and Audrey II, respectively. All three feel this musical means something different to them than previous ones since they missed being on stage for so long.
"After everything shut down, I really had time to look back at everything I've accomplished due to theatre and music, and I realized how big a role it plays in my life," Haylee said. "When I was younger, I didn't think it would be this important to me, but when it was gone, it felt like a huge chunk of my life was just ripped away. The experiences this year definitely add something to who I am, and I feel I have more under my belt because of it."
Returning to performing on stage felt surreal to Sarah at first, but it also felt like a return to home for her.
"When we first started, it was strange since we hadn't been on stage in forever, but once we got into it, it felt normal," she said. "We have to social distance and wear masks of course, and that's created its own challenges in having our characters develop relationships, but it still feels like theatre. I've been doing this since sixth grade, and it feels like I belong here. It's great that we're all so close too because we all get to share our passion for theatre even though we're far apart."
"Being away for so long has really put into perspective how important theatre is to me," Henry added. "Coming back has helped me appreciate how much I enjoy theatre and how big a role it plays in my life. It's great being able to socialize with each other again and it makes it that much more fun and entertaining."
Both Henry and Haylee will be attending the State University of New York at Fredonia after graduation – Henry for engineering and Haylee for childhood education. Sarah will be attending Niagara County Community College for theatre, with a goal of eventually finding herself on Broadway.
A deviously delicious Broadway and Hollywood sci-fi smash musical, "Little Shop of Horrors" has devoured the hearts of theatre goers for over 30 years. Howard Ashman and Alan Menken (Disney's "The Little Mermaid," "Beauty and The Beast," and "Aladdin") are the creative geniuses behind what has become one of the most popular shows in the world. The meek floral assistant Seymour Krelborn stumbles across a new breed of plant he names "Audrey II" – after his coworker crush. This foul-mouthed, R&B-singing carnivore promises unending fame and fortune to the down and out Krelborn as long as he keeps feeding it – BLOOD. Over time, though, Seymour discovers Audrey II's out-of-this-world origins and intent toward global domination!
Tickets for the livestream of "Little Shop of Horrors" can be purchased online at www.tonawandacsd.org/theatre. Individual virtual tickets are $10, while group virtual tickets are $15. The show will take place Saturday, May 22 at 7 p.m. and Sunday, May 23 at 2 p.m. Ticket holders will be given an access code to watch.