Pictured above: Rowan Leader as Jimmy and Candice Strahin as Sandrine during a dress rehearsal of the play "Almost, Maine."
It can be a daunting task for cast members of a play to perform in front of a live audience, but what if your castmates aren't even in the same room as you?
That is what the Tonawanda Middle/High School Theatre program and Drama Club are tackling as they ready for their virtual production of John Cariani's play "Almost, Maine." While no audience will be allowed due to COVID-19 safety measures, ticketholders can tune in live on their computers and watch from the comfort of their homes.
"Transitioning from the stage to a virtual platform has been full of challenges," Tonawanda Theatre producer Daniel Lynch noted. "As different as this production is to what's 'normal,' the students still bring the same energy and level of commitment they do to a live production. Like any show, we've had our difficulties, especially technical glitches and pets disrupting scenes, but even though these are different challenges, the students have worked hard to overcome them."
The cast will perform live from their homes using videoconferencing software, virtual backgrounds and sound and lighting tricks. Lynch said there has been a learning curve for everyone since so much is different.
"We learned to replace typical stage directions with Zoom terminology, like mute and screen share," Lynch explained. "Building large, elaborate sets was replaced with green screens and Google Image search, and the stage and tech crew learned all there is to know about Zoom instead of where to place set pieces and how to control lights and sound."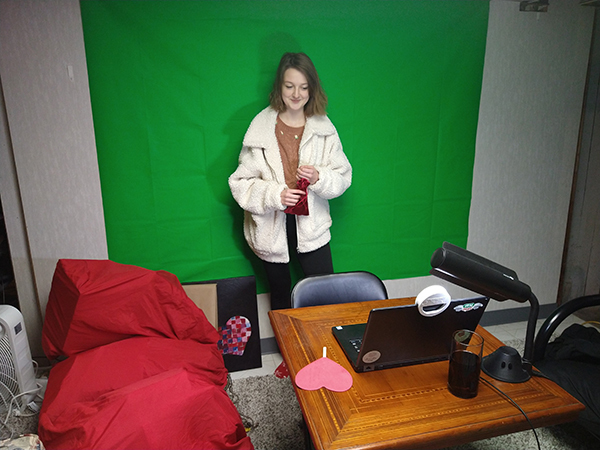 Pictured above: Sarah Maxwell acts in front of her computer and a green screen during a dress rehearsal of the play "Almost, Maine."
The play takes place in Almost, Maine, a small, unincorporated town in northern Maine on the border with Canada. One cold winter night, as the northern lights hover in the sky, the residents of Almost, Maine, find themselves falling in and out of love in unexpected and hilarious ways. Knees are bruised. Hearts are broken. But the bruises heal, and the hearts mend — almost — in this delightful midwinter night's dream.
"Being in a virtual play is challenging, but I'm happy to finally do what I love again," senior Haylee Morris stated. "Theatre has been a huge part of my life since middle school, and the fact I had to give most of it up last year and this year was one of the worst feelings. I'm happy to be back with my friends, creating and doing things we're passionate about. Even though we're not all together, we're still one big happy theatre family."
"It's different and a little strange, but it's still fun and interesting," freshman Lydia Weber added. "It's new, and we have to practice with technology along with acting, and we have to make props work differently than usual. We don't have to move around as much though. In the end, I know it's all going to be worth it because of all the practice we've had."
"Almost, Maine" is performed as a series of vignettes. Each scene takes place during the same moment in the same town and they all connect in some way. Lynch noted the format works well for a virtual platform and is one of the reasons this show was selected.
Scenes will be performed by two or three students. Cast members had to find unique ways to connect and interact with each other in each scene – everything from a hug to getting hit with an ironing board.

Pictured above: Haylee Morris as Marci and Henry Caso as Randy during a dress rehearsal of the play "Almost, Maine."
Tickets for "Almost, Maine" are $6 per individual and $10 per group and can be purchased on the Tonawanda Theatre webpage, www.tonawandacsd.org/theatre. Ticketholders will receive links and information on how to join the livestream. Two productions are planned – one Friday, Feb. 5 and another Saturday, Feb. 6, both at 7 p.m.
In addition to ticket sales, the Drama Club is also accepting donations due to canceled productions as a result of the pandemic and the expenses of a virtual performance platform. In keeping with the production's love/heart theme, 50% of all donations will be given to the American Heart Association. Donations can be made on the same webpage, www.tonawandacsd.org/theatre.
You can watch a sneak preview of "Almost, Maine" in a news story done by WGRZ-TV.